Vice Chancellor and Dean for Student Life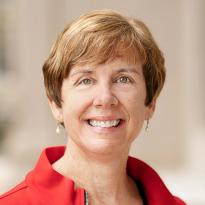 Biography
As a member of the chancellor's senior staff, Suzy M. Nelson oversees many areas related to graduate and undergraduate student life at MIT: wellness and student support; residential life programs; fraternities, sororities, and independent living groups; housing and dining; student activities and associated services and facilities; diversity and inclusion initiatives; violence prevention and response; student disability services; religious life; and athletics, physical education, and recreation.
A graduate of the higher education doctoral program at Syracuse University, Nelson came to MIT after serving as vice president and dean of the college at Colgate University. With more than 25 years of experience as an educator, Nelson has worked at Harvard, Cornell, and Syracuse Universities in residential life, student life and activities, and fraternity and sorority affairs. She has also lectured at Cornell University and other colleges on topics related to leadership, human services, and adult learning.
Nelson's favorite part of her job is working with students. She began her career teaching high school English before returning to graduate school to study student development and college administration. Areas of academic interest relate to college residential learning communities, student well-being, and sustained dialogue as a technique for resolving conflict. Nelson and her husband Jack have four children.