Dean, School of Architecture and Planning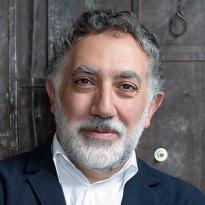 Biography
​​Hashim Sarkis was appointed dean of the School of Architecture and Planning in January of 2015. Prior to that, he was at Harvard University Graduate School of Design (GSD) as the Aga Khan Professor of Landscape Architecture and Urbanism. Dean Sarkis has held numerous visiting appointments around the world, including at the American University of Beirut and the Metropolis Program in Barcelona. He was selected to serve as director/curator of the 2021 Venice Architecture Biennale.
In addition to his academic work, Sarkis is principal of Hashim Sarkis Studios (HSS), established in 1998 with offices in Boston and Beirut. The architectural and urban projects of HSS include affordable housing, houses, parks, institutional buildings, urban design, and town planning.
HSS has received several awards for its projects, including for the Housing for the Fishermen of Tyre, Byblos Town Hall, and the Courtower Houses. The firm's work has been exhibited around the world, including at the Museum of Modern Art in New York and at the biennales of Venice, Rotterdam, Shenzhen/Hong Kong, and Valparaiso.
His work has also been published extensively, including in a monograph by Ness.docs and in the Phaidon Atlas of 21st Century World Architecture (2008), with the Housing for the Fishermen of Tyre selected as one of the most significant buildings of the century. He also received numerous teaching awards while at Harvard University.
Sarkis is the author and editor of many articles and books that have filled important gaps in the history of modern architecture and urban design. These include Circa 1958: Lebanon in the Pictures and Plans of Constantinos Doxiadis and the edited CASE: Le Corbusier's Venice Hospital; Josep Lluis Sert: The Architect of Urban Design (with Eric Mumford); The World as an Architectural Project (with Roi Salgueiro Barrio and Gabriel Kozlowski); and Biennale Architettura 2021: How Will We Live Together? (official catalog).
Sarkis was a founding member of Plan B, Institute for Urban Design Studies in Lebanon and the Middle East and the Arab Center for Architecture. He has served on the board of several organizations, including the Association for Rural Development in Southern Lebanon. He holds professional registration with the Beirut Order of Engineers and Architects.
Sarkis has a BArch and BFA from Rhode Island School of Design and an MArch from Harvard University Graduate School of Design. He received his PhD in architecture from Harvard University for his thesis Publics and Architects: Re-engaging Design in the Democracy.