Chancellor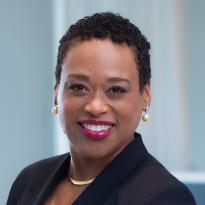 Biography
Chancellor Nobles is the Class of 1922 professor of political science and has been a member of the MIT faculty since 1995. Before being appointed chancellor in 2021, she served as the Kenan Sahin Dean of the School of Humanities, Arts, and Social Sciences (SHASS) and as head of the Department of Political Science.
As chancellor, Nobles is responsible for overseeing more than 60 interconnected offices that support undergraduate and graduate students' academic success, foster community and wellbeing, and cultivate personal and intellectual growth. Chancellor Nobles works closely with senior leaders to develop and implement the Institute's strategic priorities. 
Throughout her distinguished career at MIT, Nobles' leadership has resulted in the creation of a new theater building and a forthcoming music building, which will be a state-of-the-art center for music research, innovation, and performance. Nobles also championed the pioneering "MIT & Slavery" research class; secured new support for graduate students, postdocs, and professorships in SHASS; and launched several labs focused on digital humanities, music technology, election data and science, and climate action.
Nobles' teaching includes graduate courses in transitional justice, ethnic politics, and nationalism as well as undergraduate courses in comparative politics, Latin American studies, ethnic conflict in world politics, and social movements in comparative perspective.
Her international, comparative research focuses on restorative justice in light of ethnic and racial conflicts. She is the author of two books, Shades of Citizenship: Race and the Census in Modern Politics (Stanford University Press, 2000) and The Politics of Official Apologies (Cambridge University Press, 2008), and is the co-editor with Jun-Hyeok Kwak of Inherited Responsibility and Historical Reconciliation in East Asia (Routledge Press, 2013). Her work has also appeared in the Annual Review of Political Science, Comparative Politics, Social Research, Daedalus, American Journal of Public Health, and several edited books.
Her current research is focused on examining racial murders in the American South, 1930–1954. Working closely as a faculty collaborator and advisory board member of Northeastern University Law School's Civil Rights and Restorative Justice law clinic, Nobles has conducted extensive archival research, unearthing understudied and previously unknown racial murders, and contributing to several legal investigations. In fall 2022, the Burnham-Nobles Digital Archive was publicly released for scholarly and public use. She contributes to the US national dialogue about racial equity through thoughtful research-based commentaries that draw on her scholarship in the field.
Nobles graduated from Brown University with a degree in history and received her MA and PhD in political science from Yale University. She has held fellowships at Boston University's Institute for Race and Social Division and Harvard University's Radcliffe Center for Advanced Study. She has served on the editorial boards of Polity, American Political Science Review, and Perspectives on Politics as well as a guest editor for a special issue of Nature.
Nobles has also been involved in faculty governance at MIT and beyond, serving as associate chair of the MIT faculty from 2007 to 2009, and vice president of the American Political Science Association.